973-553-0794
Free Expert Consultation
Laptop Screen Replacement NJ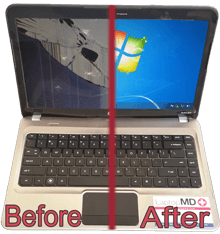 Laptop Screen Replacement NJ
LaptopMD provides the fastest laptop screen replacement in New Jersey. Experience the difference! We provide free while you wait estimates and same day service.  At LaptopMD, our focus is solely on a quick screen repair of your laptop.
No matter the make, model or display size of your computer, our industry certified engineers will be able to replace your screen in 2 hours.
Price comparison for Laptop Screen Replacement NJ
| | LaptopMD | Best Buy | Staples |
| --- | --- | --- | --- |
| Laptop Screen Replacement NJ | from $150* | ~$600 | In Store Estimate |
Laptop Screen Replacement NJ
Staples
In Store Estimate
What service is best for you?
Our certified engineers are as good as it gets, well versed in the internal structure of all devices, including but not limited to laptops. The devices other services say can't be salvaged are the ones LaptopMD enjoys curing. For these reasons and more, we've become well respect in NYC and North New Jersey.
Simply fill out the form below, and we will respond quickly with information on laptop screen replacement for you!
Fill out our onsite request form, give us a call at 973-553-0794, or stop by us in Pompton Plains or Morristown to get your free repair quote today.