973-553-0794
Free Expert Consultation
iPhone 5, 5C, 5S, SE Screen Repair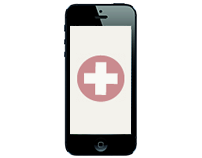 iPhone 5, 5C, 5S, SE Screen Repair
Did you crack your iPhone screen? Come into our Pompton Plains or Morristown offices six days a week for an iPhone screen repair NJ in as fast as 15 minutes! Our apple certified doctors will do the labor necessary to quickly repair your phone, no matter what model. From iPhone 5, 5C, 5S all the way to the iPhone SE, we have OEM iphone screens in stock. Don't be stuck with low quality screens that may easily break or even lose function. Without touch screen ability, an iPhone is essentially useless. If you're experiencing that pain, come to LaptopMD today for your iPhone screen replacement! We provide an affordable, convenient alternative to insurance companies that ship your device off to a factory and give you a refurbished phone, stripped of data. We provide same day service on many iPhone repairs.
Prices for iPhone 5, 5C, 5S, SE repairs
| | Digitizer/LCD Repair | Home Button Repair | Data Recovery |
| --- | --- | --- | --- |
| iPhone 5, 5C, 5S, SE repair NJ | $59 | $59 | $150+ |
iPhone 5, 5C, 5S, SE repair NJ
What service is best for you?
You can even ship your device in if you're unable to come to our offices. We are the original medics. For over 16 years our BBB certified company has been devoted to swift, affordable, quality repair. The devices that other services say can't be salvaged are repaired by us on the same day. Come experience the LaptopMD difference with your iPhone 5, 5C, 5S, SE screen repair New Jersey!