973-553-0794
Free Expert Consultation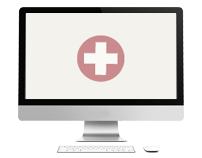 iMac repair
Visit our Pompton Plains or Morristown offices for the best iMac repair in New Jersey! Our Engineers are reknown for their component level expertise. We pride ourselves on providing affordable, swift iMac service with free, while you wait estimates. Our Apple certified engineers pride ourselves on repairing the devices other services pass the buck on or say they can't repair. We're ready to do the in-depth work needed to repair your existing device. Where the Genius Bar and Geek Squad are attached to retailers, we're only attached to providing quality repair. Regardless of the issue on your iMac, bring it to us to be cured!
Prices of iMac Repair*
| | Screen Repair | Memory Upgrade | Logic board repair |
| --- | --- | --- | --- |
| iMac repair | $299+ | $98+ | $228+ |
What service is best for you?
Come to our offices today to upgrade your iMac's memory. Don't be stuck with a slow, laggy computer. We will repurpose your existing RAM and bring your iMac memory where it needs to be!
Do you have a clicking hard drive? Bring it to LaptopMD. We're capable of component level hard drive repair for all of New Jersey. We also understand how expensive true hard drive repair is and offer hard drive data recovery options. Don't let your hard drive completely fail before you see us. We will mirror your data and give you a replacement hard drive from industry leaders such as Seagate and Western Digital. Don't see your issue mentioned? Call us today, we handle all iMac repair NJ issues.
*Price may vary depending on model and year.